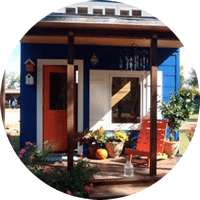 Community First Village
A Micro Community Case Study
"They helped me clean up, gave me dry clothes, fed me, and prayed with me. They treated me with dignity."
Providing affordable and sustainable housing, Community First Village is a supportive community for the disabled and chronically homeless.
Residents work to pay a minimal rent to be able to stay at the compound. For those with religious and spiritual beliefs, there are places to worship, study, and have fellowship.  A medical facility is also provided for physical and mental health screenings and to support services including hospice and respite care.
As far as security, Community First sports a gated community whose access is limited to the residents and their registered invited guests.